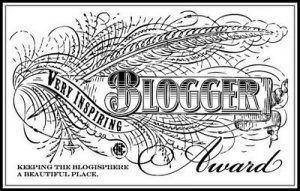 This is how it works. You must state 7 interesting facts about yourself. You must nominate 15 people for the award . You must link back to the person who nominated you and you must display the lovely award logo on your blog.
So, drum roll please ,
7 Facts about Moi
1) I was hit by a car and taken a whole block on the windshield of his car when I was 19. He then slammed on his breaks and dumped me off in the parking lot of a corner store. Among cuts and bruises, I broke my leg, ribs, collar bone, shoulder blade, toes, road rash and whiplash. All these things were terrible, but what did I scream out when I came to on the ground? I stood up and screamed (yes on my broken leg) I broke my tooth. Crazy I know. Oh I also didn't break one nail. I had very long ones back then and I didn't even chip my nail polish.
2) At the age of 38 I watched Food Inc. I was already interested in how food was grown and how it was raised. I had been buying organic fruits and veggies for a while at this point. I was only buying free range drug free meat. I tried my hardest to buy local whenever possible. Then I watched this documentary. I always thought it was a little silly when someone said a movie changes their lives. I don't anymore. Although a lot of other factors influenced our decision, but we sold our home in the city (I had been a city girl all my life), bought 40 acres and a beautiful home, and from scratch started a hobby farm. Yes everyone who knew me at the time thought I had lost my mind.
3) I have 3 cats, one dog and give or take 3 or 4 thousand worms. We practice vermiculture. We raise worms, red wigglers if you are curious, for their nutrient rich poop. It does miracles in the garden and my veggies can't get enough. They love carbs just like me. Oatmeal is one of their favs. They also love corn on the cob and will hollow out the cob and live in there. It costs nothing to keep them and they give us nutrient rich fertilizer. Worms are awesome.
4) Bugs used to paralyze me with fear. I mean anything. I hate the creepy crawly things. When my son was born I decided that I had to get over my phobia so I didn't pass it onto him. Bit by bit, bug by bug, I over came my fear and now pretty much nothing phases me. Except cicadas those things are so creepy ugly and weird. Plus they are so dumb. I was weeding one day and I watched one constantly fly itself into our metal downspout. Ewwwww I just creeped myself out.
5) I had straight hair as a kid. In high school I cut my hair crazy short. In fact it was buzzed on one side. Meh it was the 80's we were weird back then. When it grew out boom curly. I have had curly hair ever since. I now can't have short hair because I look like a poodle.
6) I was a boy scout when I was a teenager. We were one of the first to go co-ed in the province. Some of you are thinking weird right? No. Sometimes on our camp outs there would be over a hundred boys and 5 of us girls. I call that smart. I was also one of the first female camp counselors at our local cub camp.
7) When I was pregnant with my son, we had one of the worst winters I can remember. We lived in the city and our driveway was very steep. Living in the city you don't have a whole lot of places to put the snow, so our snow banks were getting bigger and bigger. Higher and our driveway was getting narrower. I was coming home from dropping my husband off at work. It was about 7 am. I turned into my driveway and got stuck. I mean I couldn't go forward or back. I was blocking the sidewalk, but I was off the road so you might think no big deal. Well yes big deal, very big deal, I couldn't get out of the car because of my enormous pregnant belly. I even somehow crawled into the back seat and tried to get out the back door. I thought about tunneling into the trunk but changed my mind. I stayed there for over an hour until some nice young men came walking down the road and pushed me out.
So there you go 7 facts about me. I hope you enjoyed them. Now for the next 15 victims, sorry I mean nominees.
1) Andrew Barber - A poet in soul and vocation. His words inspire. - http://avbarber.wordpress.com/
2) Ian Little - funny funny man, I just started his novel Hell in the Kitchen and so far I'm loving it. http://ianlittlenovels.blogspot.co.uk/
3) Matt Holgate - He is my favourite Canadian novelist. Sorry Margaret Atwood, but have you seen Matt?Very handsome. He combines horror and fantasy in his novels. http://www.mattholgatebooks.com/index.html
4) Zoe Saadia - the talented writer of the Aztec Series and others. - http://blog.zoesaadia.com/
5) Cameron Lincoln - he is a very skilled writer. I have read one of his novels and intend to read the rest. His erotica is second to none. - http://cameronlincoln.wordpress.com/
6) Kristen Stone - author extraordinaire, including Day Stalker one of my favourite vampire novels. http://www.kristen-stone-the-writer.com/
7) Bev Spicer - the talented and beautiful writer of among others Bunny on a Bike - http://baspicer.blogspot.fr/
8) Billie-Jo Williams - she is funny and her epic fantasy series Destiny of Dragons has some of the best reviews I've ever seen. - https://sites.google.com/site/destinyofdragons/
9) Jane Carroll - the author of Bertha Size Your Life is so funny and Bertha is such a character that I'd love for her to tell us all 7 interesting facts. - http://janecarrollauthor.com/
10) Mackenzie Brown - his books all sound so irresistible. They are on my to read list. - http://mackbrown.moonfruit.com/
Okay you may have noticed I only did 10, but getting 10 took a lot longer than I thought and I am doing my final read through for my sequel to Blood and Loss. I can't wait to see everyone's answers.