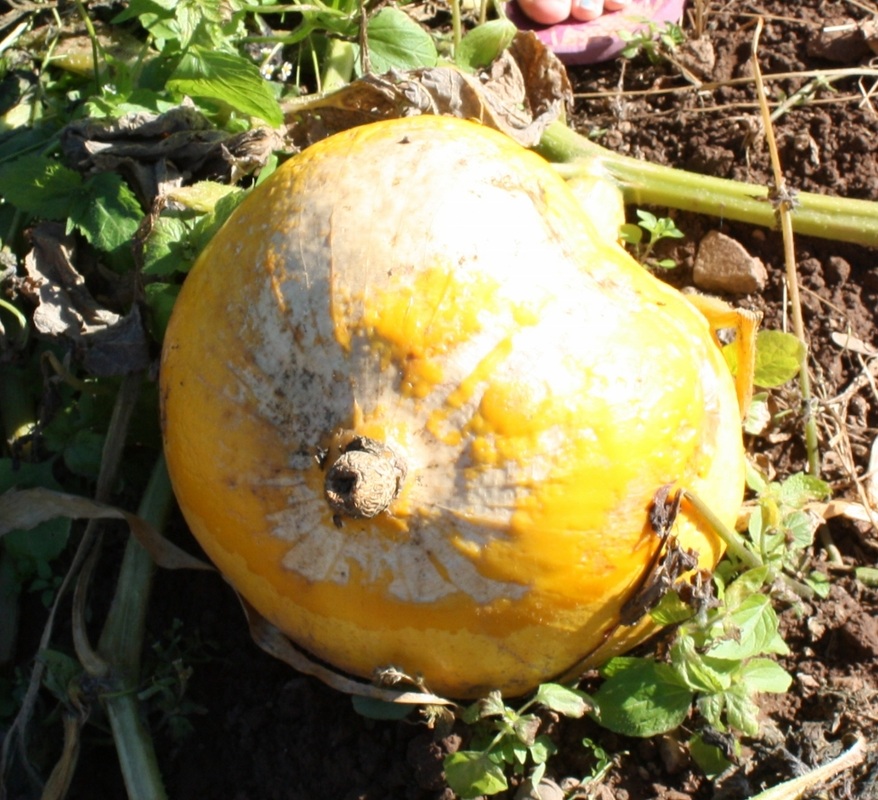 I thought the season was going to go by without a pervy vegetable. Then I saw the boob squash. Every growing season I like to find at least one pervy veg.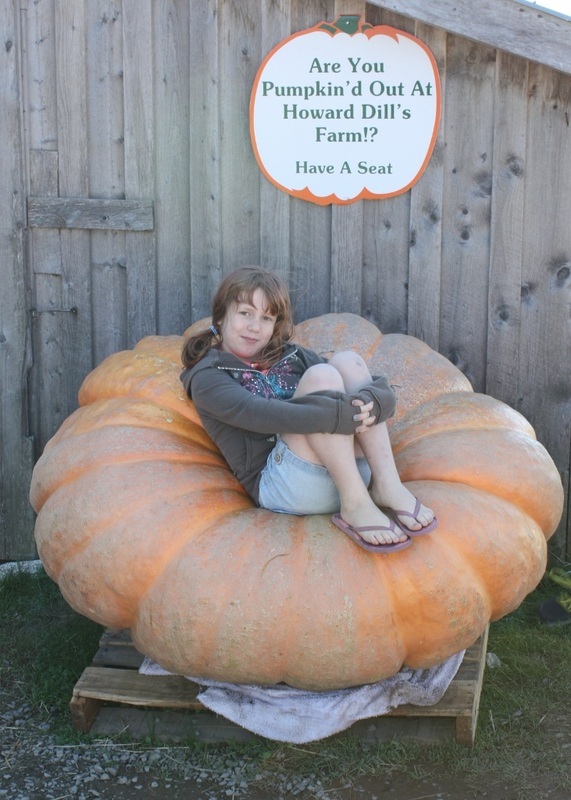 We went to Dill Farm, the home of the giant pumpkin to get our pumpkins for halloween. If the boob squash wasn't a big enough find, there was also the pumpkin chair. I loved this chair, but I was skeptical of its longevity. With my luck I would be the one who finally poked through the outer shell and came out with my butt covered in pumpkin guts. So we kept up our search for the perfect pumpkin. We roamed all over the farm checking everything out.

These were a touch large.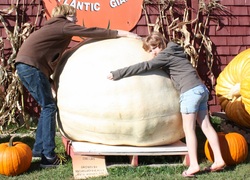 The kids fell in love with this one. I did want a white pumpkin, but this one weighed 1300 pounds. That was a couple pounds over the weight limit of our mini van. So after another hunt and some compromise we decided to settle for two smallish run of the mill pumpkins. This occurred after I explained to the kids that they were old enough to scoop the guts out and that a bigger pumpkin meant more guts.
Now I know what your thinking. The logical next step after buying your pumpkins is to go and see a lemur. Well if that is what you are thinking that makes you pretty weird and also right. Our next step was to go to the farm up the road from our house so we could pick up some chicken and hamburger. This farm is amazing. They treat their animals with care and respect. They have tons of room to roam and I don't know why an animal that is allowed to walk around and graze is far tastier than one that isn't but it is. mmmmmm Wait what was I talking about... oh yes so we always go there to buy our meat. They allow you to walk around the farm and check everything out. I've been going there for 3 years and had never bothered to do so until this weekend.
So we walk around a corner and hear this awful cry and its a pheasant in this huge cage. Then in the next cage we see 3 lemurs.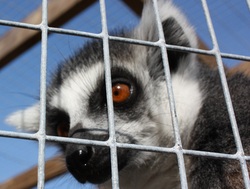 Look at that cute face. I thought they were incredible. Now before anyone gets their animal rights panties in a knot, they are well taken care of and absolutely not on the menu. They are such amazing creatures and they just put you in a good mood.


Wish I had something profound to say at the end of this blog. Here is something to think about. My favourite memories as a kid were the weekends. My grandparents always went for a drive on Sunday or went visiting and my parents carried on that tradition. I try to do that as much as possible with my kids. Sometimes the most mundane things can turn into an adventure and kids love experiencing things with you. They watch how you tackle life. Growing up Sundays taught me that family was important, tradition was something you could count on, that spending time with their children and grandchildren was a priority for my parents and grandparents and those things, those big things canceled out all the mistakes they and every other parent make everyday while trying to raise kids.
I let that comfort me when I want to wring their cute little necks. Hopefully they remember Sundays and forget the times I didn't know the perfect right thing to do. If that happens I'll know I did a good job.