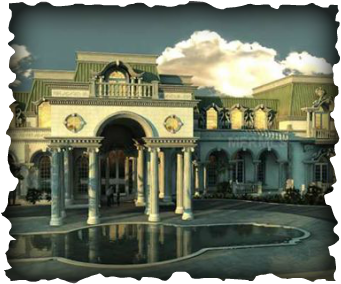 Above of course is the famous Palace of Versaille. It had a humble beginning as a hunting lodge that was started in 1624 and eventually grew into one of the largest palaces in the world. In 1682 the royal court would be moved to here from Paris.
To the left sits a 90,000 + sq foot behemoth being constructed to look like the Palace above. It is an unfinished home said to be the largest in America. David Siegel started this project because he could.
I want to tell you about the documentary The Queen of Versaille. It introduces us to the Siegel family. They are busting out of their 29,000 sq ft home. (no I didn't add a zero by mistake). She is a former Mrs America, he owns the biggest time share company in the USA. They have 8 kids, one is her niece and she may be the brightest of them all. I lost count of the animals and the staff, but at one point they had 19 on staff including the nannies. Unfortunately for the Siegels but a giant bonus, I mean the maker of the documentary must have been doing handstands, kissing babies and throwing high fives all around, the stock market crash happened just after filming started. The Siegels were hit hard by the crash. They had to *sniff sniff* sell their private planes. They had to cut back on spending which included the kids going to public school and cutting the house staff from 19 down to 4.
The documentary shows us what happens when money and power are stripped away. It shows us how little a human being can care for another living right in their own home. Jackie Siegel is a likable person, but she uses things and money to make her feel good. When the money and power is stripped away the Siegels are shown for the selfish people they are.
This is most evident when it comes to their relationship to their kids. Jackie says she only wanted one child until she realized she could have nannies. Once she realized she didn't have to do the hard work that goes into raising a child she start collecting them like she does her clothes, shoes, furniture. She collects dogs as well, when you don't have to do the dirty work why not.
It is plain for all to see that Jackie uses money and things to make herself feel good and David uses power. When that is gone Jackie is like a lost little girl floundering around not quite sure what to do and David reveals himself to be the egocentric uncaring man he is. They will go to their grave having never truly lived. That might sound odd when you think of how many places they've been how many things they have acquired and how many people they have in their lives, but I never witnessed one true connection between them and another human being and that is pretty sad.


Jonquil, Jackie's niece who she has taken in came from a very poor background but she might be the smartest of them all. She said I used to see this lifestyle on tv and thought it would be so great to live like that. That it would make you happy, but once you have all this, you get used to it and it makes you want more.
Watch this movie to see how the other half lives and then be grateful for what you have. If you can do that you are already better off.
In the immortal words of Bullwinkle the moose "now for something completely different." I also watched Catfish today and I hate to admit the guilty pleasure I found in it. On the surface these two documentaries have very little in common, but they do share one very important theme. As humans we need want and crave a special intimate connection with others. Jackie and David Siegel used money and power to fill that hole instead of actually going through the hard work of creating it in any real sort of way. In Catfish which is a word used for someone who creates a fake profile online, that connection is longed for and wanted so badly that lying and creating a fake relationship is better than none at all. Some have said Catfish was partially staged, but I don't think it matters. Watch it at face value and see how loneliness can be the one thing a soul can't bare. I don't think the makers were trying to make this their message, but its what I came away with. I recommend both of these documentaries, they will make you feel grateful for what you have.