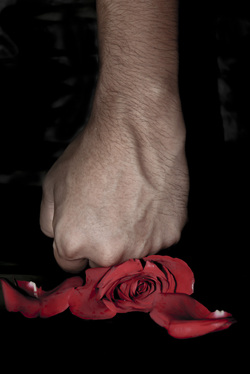 "You've come a long way baby." Okay so this was a horrible ad campaign for Virginia Slims cigarettes. I did believe that we had come a long way. As a woman I never felt like I was disadvantaged by having two X chromosomes instead of getting an x and a Y.
I felt growing up I could be anything I wanted. My gender was not a hindrance. I loved being a woman, I still do.
I believe there are differences between the sexes. Differences don't make one more superior than the other, it just makes things more interesting.
I love men. I know so many good ones. Men who value the women in their lives. They love, their mothers, daughters, wives and sisters.
I guess what I'm saying is, yes I know there is still violence against women, I know there is still rape, I know things aren't perfect, but I thought that things had come a long way.
I looked down on cultures who didn't treat women as equals. Where a woman's life is much less important than a man's. Where a woman isn't allowed the rights of a man. Where an attack on a woman is not only often not punished, but sometimes the punishment is given to the woman.
Now I'm not so sure if I live in a culture where I can be quite so smug. I'm not trying to say women in the west have it as bad as some, but I really did believe we had come a lot farther.
It's not that violence happens, I'm afraid I think we will always be cruel to each other, but it's our reaction. It makes me so sad that we haven't come farther.
In Canada, we have had Jian Gomeshi. A broadcaster who allegedly has assaulted women all the way back to his college days. He's 47. I lost count of the women who have come forward, but last time I heard I think it was 12. For the most part women didn't come forward they wanted to forget it. A woman who worked with him was grabbed and told he wanted to hate fuck her. She complains and nothing is done. A woman comes forward and she is called a liar. More come forward and they are all called liars.
Even when the women start to become believed some still criticize them for waiting so long. They were using him to further their career so they get what they deserve. Why didn't they leave earlier? Really? This is how far we've come. The worst is this insane myth that women are always lying about getting raped, for attention, money, fame, revenge etc. Does it happen? They say about 3% of cases.
So why did so many people react with such hatred and venom? Why do we vilify instead of sending our love to these women? Now Jian had his fans, but he wasn't as beloved as Bill Cosby. So when his accusers came out, no matter who or how many the reaction was beyond hostile.

My opinion only" if they did not speak up when it happened then they are only speaking up to join in the lawsuit now (and their only motive is money (which makes me doubt they were actually victims. I do not doubt the had sex with him but it was with consent for whatever reason then... now they'd like more money. That's all

If any woman was drugged and then raped it's an outrage that it wasn't reported immediately. (blaming the victim)

Oh please. If you pay me enough, I would jump in line too. Gimme' a break. They are just looking to get PAAAAAAID. So why didn't a SINGLE ONE of these women come forward WHEN IT HAPPENED????? What a joke.

Yes paying for it is called prostitution. These are not innocent victims but blackmailers.

Bill Cosby sexually assaulted me. I say it now because everyone else is coming out so should I and I too should be named on the lawsuit.

Also, I have beach front property for sale in Arizona and If you believe that I'll throw in a...


Why don't we ask, what can we change so when women are attacked they don't feel so ashamed or scared so they will come forward more often and report these crimes. I don't want Jian or Bill to be guilty because that means we live in a world where a man can rape or attack so many women over so long a period of time and they still are admired and loved.
People in the industry knew about Jian. They warned their female friends to stay away from him. I'm sure people knew about Bill too. Why were these things condoned?
Why don't we value these women. Why do some men and women assume, want, accuse these women of being money grabbing whores? It's insane. Why are there still so many myths about rape being perpetuated still to this day? Why do so many men and women think they know the right way to react to being raped and if you don't react that way then you are lying?
You don't know. Unless you have been raped you don't know.
Why are people saying that well they were with him to further their careers so they knew the deal? Really? So when your daughter, mother or sister goes to network with someone to further their careers then they should expect to be raped or at the very least attacked. Seriously? So if a man was networking he deserves the same thing?
I have a daughter and I don't want her to have to deal with this stuff. I don't want her to carry around that shame or fear.
It really does feel like there is a building hatred towards women and I have been in denial for a very long time. I went on this anti-feminist facebook page and the hatred towards women is terrifying. I honestly didn't know that existed. I knew there was probably a couple old fossils who still thought women aren't equal, but that we are all sluts who only marry for money and that we will accuse them of anything to get their money and kids when it comes to divorcing them. We push men down, we hate all men.
I was honestly shocked to hear people talk this way.
So I am going to value all the very good men in my life. I'm going to raise another one for the world and I'm going to raise a daughter who knows her worth and if anyone ever harms her, she will know that was his shame to carry not hers.
I wrote an earlier article that says we need to talk to our sons. We do, but we also need to show him we value ourselves and we need to have men and women in our lives who respect us. For our daughters we need all the same things.
It's been too long, we don't need anymore blaming, we need solutions. For us and for the world. Society is better when we are equal. I'd love to hear what you think. I know it's a heavy topic and I try not to go there to often, but I needed to write this. Good or bad, there needs to be an honest dialogue.