I'm very lucky to be able to call Scott Kaelen a friend. He's funny, smart, a great listener and a very talented author. He's working on the first book of his epic fantasy series and in the mean time he has released numerous short stories and a compilation book containing a potpourri of essays poems and short stories. His writing makes you feel every emotion and stand firmly in every world. Scott doesn't just tell a story, he allows you to experience it. Yes I am a fan. His new book of poetry can be pre-ordered now and will be released on May 7th. I've been lucky enough to get a sneak peek at a few of the poems and if they don't move you then you are made of stone, I even teared up while reading one of them. I hope you give him a chance. If you want to start with some of his short stories that chance will cost you nothing because they are free. Deadverse will cost you just 2.99. Oh and could there be a more perfect name for a book of poetry?
DeadVerse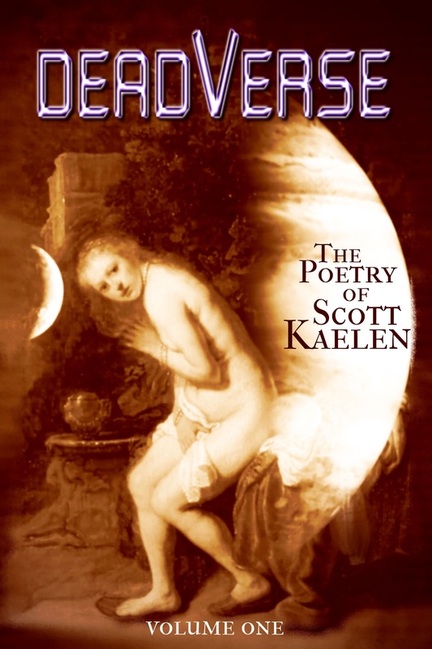 How Will I Go?

Will my heart fail
suddenly, with no real warning,
lacking such decorum
as a by your leave?
Or will my demise creep
with casual mocking,
as brain and frail body
are gnawed by thieves?
Perhaps a knife blade,
thrust by a loved one,
will serve as my curtain call,
or a blunt, heavy object,
cast without heed,
will punch me to nothingness,
cursing as I fall.

Will I go alone,
slouched in an armchair,
gazing into a crackling fire?
Or will I have guests
surrounding my death-bed
with spurious sobs
and well-rehearsed lies?
Perhaps a final caress
in the arms of an enemy
will carry me into the great divide,
or I will be one
in a crushing assemblage
under skies torn asunder
as planets collide.

Will it all matter
when I reach the conclusion
of my role in this unfolding tale?
Will the masses cry
with sincere sadness
that I have no more words to unveil?
Perhaps a mere few
will mourn my passing
with a toast and stifled laughter,
or as one with a soul-mate
and a morning-dew kiss,
we will enter the neverafter…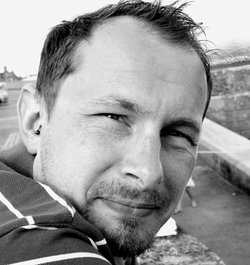 Scott Kaelen writes in the genres of fantasy, science fiction, horror, humour, speculative and contemporary fiction, poetry and non-fiction. His releases include the prose and poetry collection From Grains To Galaxies; the religious parody and criticism collection, When Gods Awaken; and the short story, Night of the Taking, the first instalment into his epic fantasy series, the Verragos Tapestry. His current projects include a collection of tough-themed essays and a novel entitled The Blighted City, the first major release in the Verragos Tapestry series.
As well as the pen, he is also modestly adept with the pencil; his work includes concept character designs for his characters, and sketches of famous personalities.
His other interests include sci-fi, fantasy and horror (in written word, and on the small and big screens), etymology, psychology, computer RPGs, deep Earth history, palaeontology, geology and cosmology.
He's also been known to flosculate.
Though thankfully not too often.