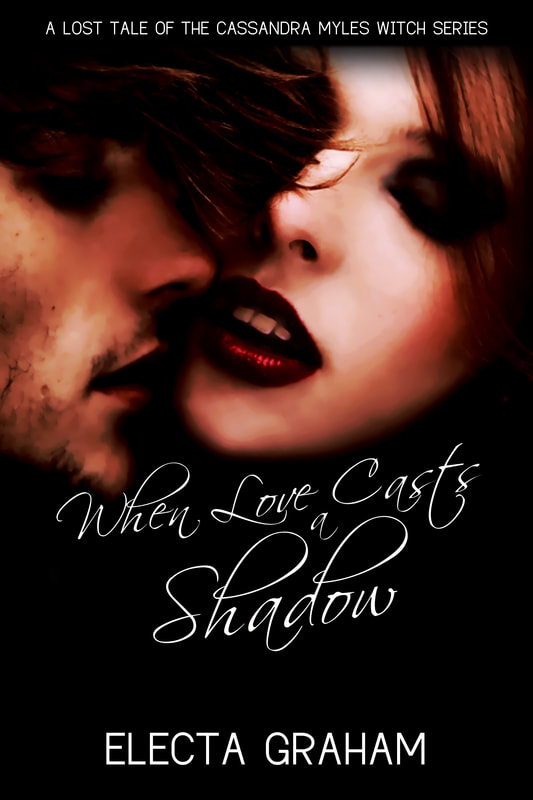 When Love Casts a Shadow is the tale of how Quintus comes to the rescue of Cassandra after she loses her magic. It's the start of his love for her and we see why he feels the need to always be her protector. Free on amazon.


​

​Quintus fiddled with the cuffs on his shirt, his manicured fingernails plucked two errant pieces of lint and threw them to the floor, then smoothed out the wrinkles in his pants. He'd been repeating these little quirks for almost an hour. He was about to go talk to the pilot for the third time when, the plane had come to life and started to taxi down the runway.
He'd arrived at Pierre Elliot Trudeau airport almost two hours ago and had expected to be in the air immediately. It was a lesson that even the filthy rich take a back seat to other planes if they're owned by vampires.
That wasn't quite fair. The plane hadn't been ready when he arrived and the fueling had taken time, not to mention scheduling a last minute flight path. His pilot was second to none and he knew exactly how to get his employer where he needed to go in as short a time as possible. He was just short tempered right now. He needed to be in Halifax.
Every minute that ticked by was an eternity. A sense of urgency growing every time he looked at his watch. He had been in the middle of a speech when the call had come in. He wasn't expecting any important news, but instinct told him to take the call. He made a vague excuse and left the conference room.
The call had shocked him and then panic had set in. A mixture of emotions fought to tear apart his ever present unruffled demeanor. He was fearful he wouldn't make it in time. He had to get to her first. Then anger that someone would do that to a girl so young and full of promise, took over and he had to struggle to control his power.
The serge of emotion almost brought him to his knees. For centuries he'd lived in a muted state. He enjoyed things, he had disappointments and triumphs, but passion was not part of his life. He experienced everything through a lens that kept him separate from the rest of the world. It kept him safe and it kept him sane and now all that was gone.
It was his duty to go to her, but that wasn't why he had woken up after so many years. It didn't take a psychiatrist to tell him why the thought of not reaching her in time filled him with horror. He identified with the girl. He knew exactly what she was going through and he needed to make sure she wasn't alone any longer than she had to be.
Two thousand years ago Quintus was a powerful druid priest. Magic was as much a part of him as his heart and lungs. He felt it coursing through his veins, he could sense it in his every deed and breath. It connected him to nature and his fellow man. When it was taken away he was a puppet with the strings cut. He was severed from his life's blood, he felt alone and discarded. It was a necessary sacrifice, but even after 2000 years the hole that magic left hadn't healed, he just learned to live with the yearning.
Back then the fae still walked the earth. They were powerful ancient creatures and humans were still simple beings who knew little of their own world let alone the fae realm. The ancient race had powers beyond their imagining. The fae played god and the humans worshipped them. Their devotion brought them no reward. The fae were not benevolent creatures. Instead the ancient ones toyed with the humans, living playthings for beings who reveled in using them for their own entertainment.
They didn't care how many died in their little games. It was clear that if they were left unchecked the fae would wipe out the human race, they had existed before humans and they would be alive long after they were gone. A child might regret breaking her favorite toy, but she doesn't mourn for long, it is after all, only a toy.
Vampires are immune to the magic of the fae. It was they who decided something needed to be done. A cynic might say they had motives of their own to want the fae gone from the earth and they would be right. Vampires were survivors from the day they were created and they couldn't allow their food to perish.
They came to Quintus, a druid priest. They needed his help if they were going to defeat the fae for good. Those who had magic were less susceptible to the fae, they were the only humans who stood a chance against the fae. A small band of humans and vampires fought to send them back into their own realm for good.
The fae put up a valiant fight, but in the end they didn't have the one thing humans had on their side and that was shear numbers. It was bloody and many lost their lives on both sides, but when the tide turned to their favor it came to Quintus and his fellow priests to seal the door to the fae realm.
The deed would need to be done by the most potent druids. The door would have to be sealed and warded against the fae, who were magic incarnate. Quintus needed the help of every one of his brothers and sisters. The war had been brutal and bloody and they needed every last one to make sure the door could not be opened again. The ancient ones would never again walk the earth.
When the deed was done Anthena came to him. She was the first vampire, turned by the fae using dark magic and she hated the fae more than anyone. She came to him and asked if he would guard the door, not just in his short life, but become a vampire and guard the door as long as it existed. He had nothing against the dead ones, but he knew once he was turned his magic would be lost forevermore.
He had lost so much already. His family died in the war and many of his fellow druids perished too. To lose his magic too seemed unbearable, but the door needed to stay closed and he couldn't let the sacrifices of those he loved be in vain. He would take the knowledge of the door with him through time. It would be his burden to ensure the fae never stepped foot outside of their realm again.
On the next night after it had been sealed he was turned by Anthena, she was the first and the strongest, she could pass on the most power. His hand goes to his neck as if he could still feel her teeth there. It was like having a limb cut off, only he was the limb. The pain was unbearable and the only thing that kept him alive was his task. For two millennia he built a giant network of spies and allies who would feed him information and watch the parts of the world he could not.
He didn't just guard the door he also had to watch those who might have the power to open it. Not all the fae had been herded back into their realm. He hunted them relentlessly. It had taken a hundred years but sightings of the fae had stopped and he hoped they were gone from the earth.
Every now and then a rumor would circulate that the old ones still walked this realm, but none had been seen for almost two millennia. He had done his job well and he had protected the door without faltering all this time.
It didn't mean one or two hadn't survived. Hidden away, biding their time. A hundred years to a fae can feel like just a flicker in time. Two thousand years biding your time and waiting meant very little to them. They remember the dinosaurs and it is rumored they remember a time when the earth did not exist. They were not immortal, but they were very close.
Quintus always kept an eye on any witch he felt had the potential to open the door. If push came to shove he would have to eliminate her. He would have no choice. It had been a blessing and a curse when the fae door disappeared, 400 years after being sealed.
He hoped it meant his worries were over, but fae magic was tricky and it could be anywhere. The bottom of the ocean or the top of a mountain. Until recent history there were many places man had never tread. That meant searching for it was not an option.
So many times he'd been tempted to let it go. Stop the vigilance. Disband his spies. Was he a fool for working so hard all these years when the door itself had not been seen in over a thousand years? Ironically if he still had his magic he'd know if the door was still in existence. The door held his magic and he'd have been able to find it anywhere on the earth.
Only two witches in all that time had the potential to open the door. They had come along after the door had been lost and he watched them as he watched all humans. He witnessed them find love, have children, grow old and die. It used to make him sad the passage of a human life and now he was numb to it.
He had to interact with humans, he was even fond of a few, but he kept them all at arms-length. It wasn't hard. For most of his existence humans if they ever found out what he was saw him as a monster. Now any humanity he had clung to had fallen away long ago. He no longer could relate to them. That was until tonight when he received a message from one of his informants. There was another witch who not only had the potential to open the fae door, but rip it off its hinges.
During her final exam at the Atlantic Academy of Magical Arts Cassandra Myles ripped apart the fabric between here and the afterlife. Instead of the tiny pinprick hole that's supposed to allow one soul through she tore a gaping wound, leading to a stampede of the departed flooding the school.
Something that was never thought to be possible. So few could let a soul through that tearing a gaping hole in the wall was never even a concern. A witch who could do that might be capable of opening the fae door. It didn't help that for the past year he had been hearing whispers of the door resurfacing. Nothing he could pin down, but Quintus didn't believe it was a coincidence.
In the past he would have someone watch the witch in question, but that wasn't an option this time. She was too powerful and if the rumors were true the door may have known she had come into her power. Sitting somewhere remote and distant waiting patiently for the one witch who was capable of the deed. He was afraid someone might try and get to her before he could.
Of course all that paled when he heard they'd taken away her magic. She still technically had it, but the head mistress had demanded a geis be put on her. A lock that sealed away her magic. She could neither access it nor feel its presence. It was a punishment for the hole she made in the wall, something that wasn't her fault.
Contacting the dead was a dangerous gift and therefore it came with a clear set of rules. Cassandra had just lost her parents to a vampire attack. She never should have been asked to contact the other side. Her grief was too raw and it called to the soul she needed most, her father. That was another rule. Never contact a loved one.
When she was told to sever the connection she couldn't and she ripped through the whole wall trying to keep her father with her. She was deemed dangerous and so they took away her magic. At least when he had lost his magic it had been his decision. She had no choice.
For so long Quintus had no connection to any human and in the instant he heard what had happened, he felt something for her. It was small and it felt strange. A kindred spirit was out there and he needed to get to her. His heart had not felt such things in centuries. He loved his son, but that love had been there since he had made him, a thousand years ago. This was something new and wonderful and when you were as old as he was, new was always something to cherish.
When he hung up the phone he called for his car and headed to the airport. Sending someone else was out of the question. He had this need to be there for her he couldn't explain. No one else could connect with her the way he could. He knew how she felt, she was alone. The geis had cut her off from the world and a vampire had taken her family. So much loss for one so young.
The paperwork in front of him was largely ignored. Being the master vampire of Vancouver and Seattle was more than a full time job and there was never a time when he could say his work was finished, but his mind kept drifting back to the girl. Emotional pain was not something he had experience for a long time and now he was feeling it for her.
His source was in the hotel where she was staying. He was to make sure she didn't leave and no one went up to her room. He wanted to get to her first. As soon as they landed he was in a limo heading towards the port city of Halifax. His cell phone rang.
"What is it Lucius?"
"Where are you? Adrien called and he said you ran out in the middle of talks. This is an important deal. If we can unite all the cities then we'll have more power when we ask for more rights from the government."
"I'm aware of how important the talks are, but sometimes things come up."
"What kind of things?"
"One of the witches I've been watching is in a crisis and I need to handle it."
"Your job is to make sure they don't open the door; it's not handling their lives. You should leave it and get back to the talks."
"Your job as my second in command is to do as you're told and support the things I feel need to be done, not telling me what to do." He didn't raise his voice. That wasn't necessary. His one and only son knew better than to challenge him once he was pushed too far.
"Yes Sire. I'm sorry. Adrien was very upset, he felt you were making headway."
"Adrien is a dreamer. No one was making headway in that meeting. It was chaos. No one was listening to anyone. I'll return when I can. I can't explain it; I feel this needs to be the one to handle it. She needs to be in our hands before she falls in with someone else."
"I'll talk to him and smooth things out."
"I have no doubt you will."
He slipped his phone back in his pocket. The meeting was a baby step towards getting more rights. Vampires had been out of the closet for quite some time, but they still didn't have the rights all humans had. Most vampires felt it was time they had those rights and the meeting was to try and figure out how to get them.
Vampires weren't designed to work together. For millennia they lived apart from society and each other to avoid detection. It made them territorial and the thought of cooperation for the greater good rarely happened. It had felt so important that he attend and try and shape how they moved forward and now he didn't want to go back. He just wanted to take Cassandra home.
The city lights came on the horizon. He was close. Halifax was a beautiful city, but he avoided it if possible. He liked the city well enough but the master was a nightmare. He demanded any vampire who wanted to enter his city to ask permission first. Quintus refused to bow down to the arrogant little whelp.
This time was going to be no exception. He didn't have time to deal with him. He hadn't even bothered to show up for the conference. He knew he wasn't going to be top dog there so he made some sort of excuse. It was too bad, Halifax had a certain feel to it that reminded him of home. He'd left for the new world a very long time ago, but every now and then he'd get a pang of homesickness.
He had time. Masters come and go. At 2000 years old he knew nothing was permanent. Everything changed and someday Cyrus would be gone.
They were now in the downtown and the hotel was coming up on the right. His source was in the lobby and as Quintus walked by he handed him the key card to enter her room. He would knock first but if there was no answer then he wouldn't hesitate to enter. Just because his source said no one had entered, doesn't mean they hadn't.