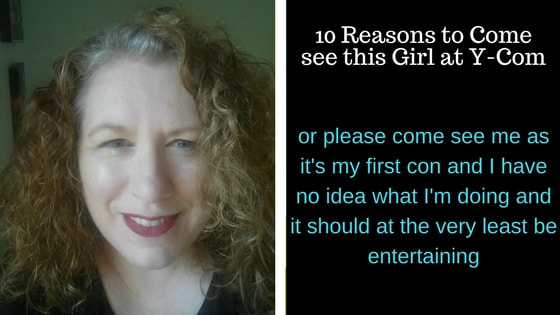 Here is the thing. I was so flattered that I was asked to be a guest at Y-Con that I said yes without even thinking about it. I came to this writing game late in life. Not really, I've been writing my whole life, but the letting people read it part is more of a recent development. I published my first book May 2012. I knew nothing about publishing or promoting or really anything at the time. In fact I didn't even tell anyone I was publishing a book until it was available. I mean no one.
So the precedent was set. If I don't just go and do things, if I allow myself to over think things I always talk myself out of them. So I said yes to Y-CON and now I'm hoping I don't make a fool out of myself. In order to guarantee my success, I thought hey why don't I write 10 reasons why you should come see me at Y-CON. Some are bribes, yes that is true. Some are conversation starters for those who don't know me, but might want to. Oh yeah and some are about my books. I have to fit a little business in there. So here we go.
10 Reasons to Come Visit me at Y-Con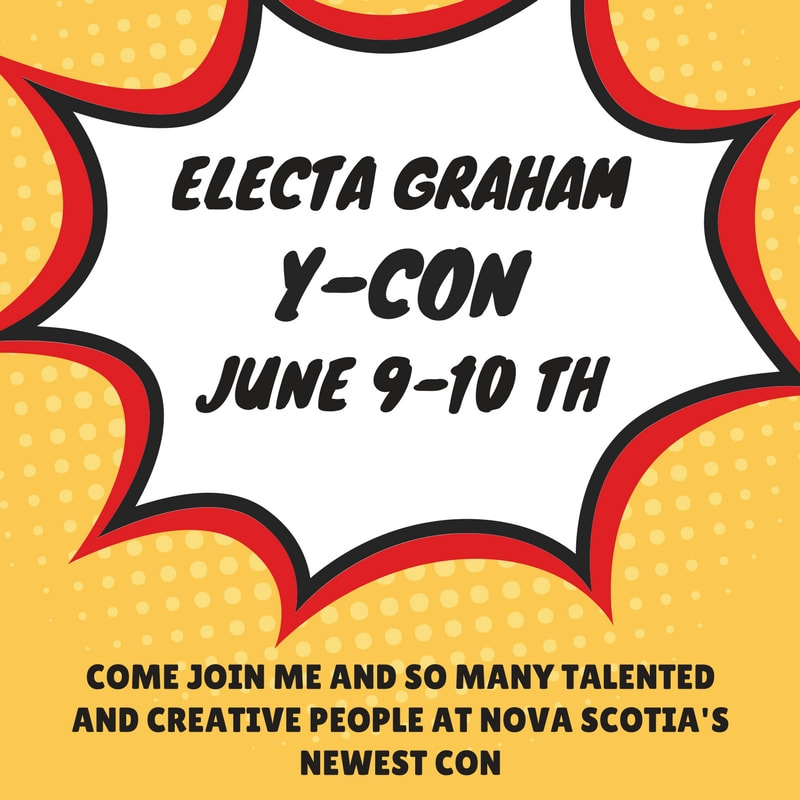 1) I will have candy on my table and not loose candy that everyone touches when they go to take one, no my candy will be wrapped and sealed for your safety.
2) I will answer just about any question you may have. Unless it's a physics question, it's just not my thing, but questions about writing, I am there for you. Questions about my books of course I will. Who will win the next election, well I have my opinions. What is sexier a vampire or a werewolf... don't get me started. Cats or dogs, well I'll leave you in suspense. White or dark meat, why do I have to choose? How much do you weigh? Well now there are limits.
3) Cassandra Myles. That is the name of my main character in my first series, Cassandra Myles Witch Series. Why is that a reason to drop by? Well, because she's awesome. She is only 19 when she loses her magic and her parents in one week. She watches as they are brutally killed. Not able to help. Left with nothing she excepts the help of an ancient vampire, Quintus, who is 2000 years old. He wants to protect her, but he has reasons for his interest. You want to know what they are? Too bad come see me and I will tell you. HA!
4) I am in love with all things costume. I have been making them for my kids since they could walk. I don't mean a little bit of makeup and a bought costume, I mean I start in September. So I am super excited to see everyone's cosplay. You will get only compliments and gushing because I know what goes into making something like that.
5) I will have merch. So if you are looking for some I will be your author.
6) All six of my full length novels (I have novellas available too just not in print but they are free) will be available for purchase. Four from my Cass series and two from my Demon Hunter series. I'll sign them if you want me too.
7) Jael Allen. She is the main character in my second series. She hunts demons. As vulnerable and as innocent as Cass is at the beginning of her series, Jael is the polar opposite. She has been through it all and came out the other side. Not unscathed but unbeaten. I love her. I mean I kind of want to be her. She loves gin, gambling, men, and killing demons. No one messes with her until the son of Satan comes asking a favor. What is it? Ha come ask me at the Con.
8) Okay these are getting harder. Here is the thing if you take nothing else from this list, I really want you to come see me. I'm not the biggest extrovert, but once I get going I've been told I can be entertaining. (oh wow no pressure now) So if you are wandering around and not sure where to go next, what about me. You see that guy with the cool costume and you want to ask him but you're not sure he wants to be approached, but then you see me and you know I do. Approach away and I have a big mouth, you ask me to ask the guy his name or something about his costume I likely will.
9) I am going to tell you my number one thing on my bucket list. So if anyone out there can help or just wants the same thing as I do then we already have a conversation starter. I want to pet an owl. There I said it. Can't take it back. I want it sooooooo much.
10) I kind of ran out of reasons, except I'm about as friendly as a person can be, I want to be there. I'm excited and if you all remember your first convention or if this is your first you know that feeling of not knowing what to expect. I'm there right now. I can't promise fireworks (the center said its against the fire code, chickens), I can promise an author who loves what she does and is super jazzed to be where she is.

BONUS MATERIAL - Some people avoid saying my name. Some people say it wrong and some people love to give me nicknames. I've heard them all. I can promise you this, if you come up with one I haven't heard I'll bake you cookies. Don't hesitate to say it, it's just Elect and we all know how to say that and add an A. No R this is where people go wrong. Even if you get it wrong no worries. I am used to it. My next door neighbor called me Alexa for 10 years. I don't mind.
Hope to see you there. Contact me anytime on any of my social medias, or leave a comment below. I will always reply. Unless you send a dick pic. That's just rude. At least ask first. I'll say no but at least I know you're polite-ish.