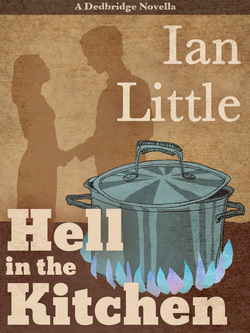 Ian Little is a funny guy. His tweets are always entertaining, witty and sometimes a little biting. I like that in a man and an author so I was curious to see if this translated to his novels.
Oh! I guess you want me to tell you. Hmmmm no, you must wait until you read this interview I did with Ian. Then I will tell you. I assure it will all be worth it in the end. Muhahaha!!!
Q: Why?
A: Because I enjoy writing, and making readers laugh.
Q: What?
A: Comedies. Always. I like reading or watching mysteries and thrillers, but I don't have it in my personality to write those darker types of stories.
Q: What don't you like?
A: I don't dislike any type of writing, although I don't get the whole YA thing about vampires and werewolves.
Q: What are you working on at the moment?
A: A YA book about werewolves.
Q: WTF?
A: I want to test myself to see if I can do it. I don't want to write the same book twice. Although Texting Orwell, Hell in the Kitchen and Luckbox can be described as a series, they aren't formulaic. Just because you like one doesn't mean you will like the others, and vice versa, as the perspectives and styles are different.
Q: Best thing about self publishing?
A: Freedom. Go forth and write what you want.
Q: Worst thing about self publishing?
A: As authors we have to be careful because there are a lot of middle men trying to muscle in on this new industry. It's a lot easier to charge for services than it is to create, so you have to be careful when picking who you deal with.
Q: Anything else?
A: We just got rid of the old gatekeepers, you would think we would celebrate giving everyone the freedom to write and express themselves publicly, but I see there are already websites springing up offering the 'best' indie books. The whole point of self publishing in my mind is to do away with that narrow-view elitism and let people publish. Readers will decide for themselves what's good and what isn't, do we really need new gatekeepers?
Q: We're both seriously into jam. Know any jokes?
A: Just one. It was my birthday last night. We went to the pub and had a few jars, then we headed off to a club and had a few more jars. I invited everyone back to my place and we had a few more jars there. Then I said, "That's enough, I can't eat any more jam."
See I told you it would be worth it. Oh you still want the answer? Okay YES.... What's that, you want more detail? Okay fine, if you can't trust me then I'll elaborate.
I have a confession. I am in love with cooking shows. Have been since I was a little girl. I loved them long before they had a channel of their own and I loved them when it was more about the cooking then the chef and I loved them even more when the chef had equal if not bigger billing then the food they created.
Jaimie Oliver I loved him when he was still naked (he could wash his hair more often, but no one is perfect). Rachael Ray made food accessible and I loved her until she became so annoying I wanted to bitch slap her. I even wanted the frugal gourmet to be my uncle, until those nasty sex abuse allegations and of course the no nonsense always funny first lady of the kitchen Julia Child, I loved her because even though she was a character you had a feeling she was still being herself. These are just a few TV chefs I have enjoyed over the years, so choosing Hell in the Kitchen was a no brainer.
The art of creating food has always had its characters. Its like the steam and heat of the kitchen concentrate that part of the brain. Ian Little has pulled back the curtain and showed us what really goes on from the first time this future chef makes a egg to a character that is watched more for his extreme personality then anything he cooks.
Gary Pansey is a chef, a husband, a philanderer, a perfectionist and a tv personality. He is trapped in his own success and we get to see how each wall of his cell is built over time. Sound dire? No its fast paced, hard to put down and hilarious. The characters are real. Much more real then the polished ones you see on TV, who are either trying to convince you how likable or despicable they are. Mr. Little tells us the story and lets us decide. Gary Pansey is shown warts and all and Ian skillfully uses humour so we like him anyway.
I really loved Hell in the Kitchen. So much in fact I just bought his new b
ook Luckbox and can't wait to start it. Check out both and other tasty tidbits about Ian on his blog http://ianlittlenovels.blogspot.co.uk/ You won't be disappointed.