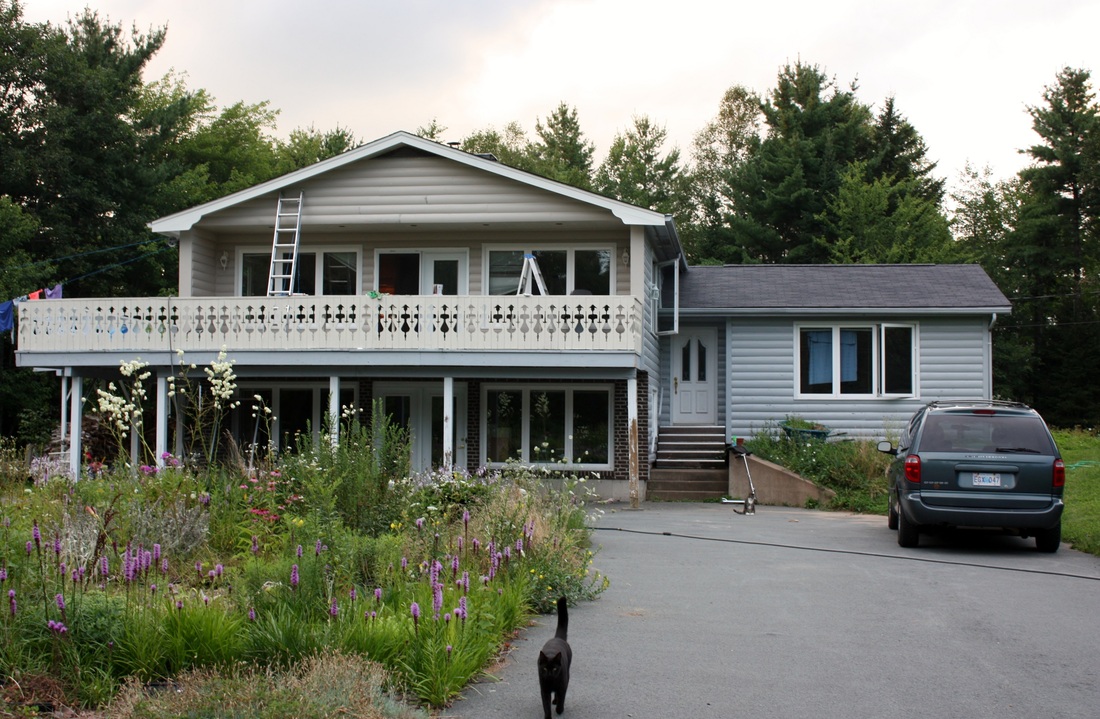 Last time I talked about making the decision to move to the country. This week I'll let you know how people reacted and how much "fun" it was to go looking for the perfect property.
Some people thought I had lost my mind. Some people didn't understand. Some thought I would hate it in the country. Some were very supportive and I appreciate those people with all my heart. It's hard to make a big change. Even when it's something you want, it can be scary. When people think what you are doing is a mistake or they make your move about them it can be very hard.
I won't name who the worst offenders were...Tony. Just joking there is no Tony. Let's just say the announcement of our happy news wasn't met with as much enthusiasm as we had hoped. We decided we would start at some point in the summer to give us enough time to find a home before the snow would fly. We needed a piece of land big enough for a large garden and a home that didn't need a whole lot of renovations. We had already renovated our home in the city from top to bottom. Literally. From a new roof, right down to insulating and finishing the basement and everything in between. I didn't want to deal with that again. That was deal breaker.
I also wanted more storage. We had one linen closet for the whole house. That included towels/sheets/blankets. It wasn't even as wide as a regular door. I wanted a bigger bathroom. I could literally wash the floor of our bathroom on my hands and knees without having never having to move.
I wanted a laundry room that was on the same level as our bedrooms. Climbing two sets of stairs with all our laundry was getting old. I wanted a big kitchen. I cook a lot and I was going to be doing a lot of preserving. I didn't want a tiny kitchen.
So we weren't exactly picky, but we knew what we wanted.
Our first real estate agent wasn't what you would call enthusiastic. I was the one who picked out the properties we wanted to view. I was the one who called and got him to book them. The house above was the first place we looked at. It was a beautiful home and I was in love, but it was at the tippy top of our price range and it was the first house we looked at. So we passed.
We changed real estate agents. Debbie Beckwith was amazing and patient and earned her money. We started looking every weekend. I naively thought it would take a month. I was so wrong. Every weekend we traveled to the valley and looked at 3 or 4 properties. My dad, husband and two kids schlept around all over. This was not our first kick of the can. We had purchased two homes before, lived in PMQs and apartments, but some of the properties we saw I still talk about to this day. Some because they were weird, some because they were scary and some because they were both. The search felt like it was never going to end.
I did learn a few facts about the country side of Nova Scotia.
1) It is incredibly beautiful - Most of our trips took place during the fall and the leaves changing colors were incredible.
2) It's very easy to find a nice family home and it's very easy to find a beautiful piece of land, but finding them both in one property, not so easy.
3) Stone foundations are terrifying. I mean horror movie I am waiting for the serial killer to come out and stab me scary.
4) There is a large section of Nova Scotians, who have a large property who don't stop collecting crap, they just keep building more sheds and barns. One guy had a whole barn lined with tables and on them were tons and tons of figurines and crap. One had a shed filled with empty egg cartons. There was no chicken coop. One had a huge collection of eight track tapes. One had 6 different out buildings. Each with a unique collection of stuff.
5) People try to hide smells with febreeze. I had to leave two houses because my eyes started to water and the smell was so strong I thought I was going to vomit. If you have dogs and they have a smell, don't worry about it. I'll assume you're taking them with you.
6) Don't buy a property next to an apple orchard if you want to grow organic veggies. Or you don't want to be breathing in pesticides a couple times a year.
I won't bore you with all the strange and wonderful houses we saw. Except for one. Why? Because it deserves describing. I really wish I had taken pictures, but it was the one place we visited where the owners stayed in the house, so I didn't feel comfortable.
First it was a black house. Yes painted all black. It was 3 stories and an attic. It also had 7 acres of beautiful farmland and a nice barn. So we decided to take a look. You enter into the kitchen. Tiny tiny tiny. Original and everything was labeled. I wasn't deterred though, if everything else was nice maybe we could work with it. We did the basement first.
Looking at this house I expected it to be scary. The wallpaper going down the stairs was stone. Yes stone. wallpaper. Paper with pictures of stones on them. The basement was big and bright. Well organized and clean. Let's head to the main floor. One room. The only one that seemed to have windows, was huge and bright and thats where the owners stayed.
Shit is about to get weird. Go down a dark wood paneled hall. Red indoor outdoor carpet. The walls were covered by Bosson Figurines. For those who don't know what I'm talking about, I'm talking about childhood nightmares.
My parents had a couple including the guy in the middle. They always seemed like they knew things. I used to touch his teeth and eyes. I think I was trying to make him blink to prove they were real. As a little girl they terrified me. These people had a whole wall dedicated to them. I was starting to think it was time to stop this tour, but we pressed on. Off we went into the green bathroom. No it wasn't painted green. It had green tile/toilet/tub/and all the mats were green. Mint green.
Up we go to the second floor. The walls surrounding the stairs were filled with paintings. There were nudes/a painting of a devil surrounded by fire and those were the normal ones. More black paneling and red carpet. The first room we go in I almost shit myself. Why? As if those faces weren't scary enough, it was a room filled with dolls. Not to be confused with a normal room with furniture that happens to have dolls in it, no this just had dolls in it.
Antique porcelain dolls on pedestals and behind glass. Nice right? There were some on the floor and some in strollers etc. I did not stay in that room long.
Some empty rooms and then the pink bathroom. Exactly like the green one only pink. Next floor had another doll room and a yellow bathroom. Then the attic. You're thinking oh that must have been spooky. No it was a nice room with hardwoods, a window to make it bright and just regular furniture. They have this weird bizzaro house and they decide to make the attic normal???????
I have to finish this quickly because I can't stop staring at those creepy faces. By November we hadn't found anything. Nothing. Steve wanted to quit looking and I knew if we didn't find a property soon we would have to. I was desperate. I was on MLS more than I was on facebook. I noticed the first house we ever looked at was for sale again and it had a 25,000 dollar price reduction. I convinced Steve to have another look. Apparently they had a sale and at the last minute it fell through. He wanted to move home to Alberta, his girlfriend had already moved and he wanted to follow. During the first week of December we looked at it one more time and then put an offer on the house.
We got it. We couldn't even see the property because there was too much snow, but we held our breath and bought it anyway. Crazy? Yes, but it turned out better than we imagined. 40 acres of beautiful forest/brooks and a lake. Now we just had to sell our house in 6 weeks so we wouldn't be carrying two mortgages. Over Christmas and during one of the worst cold snaps. Easy right?
Our property in the winter.