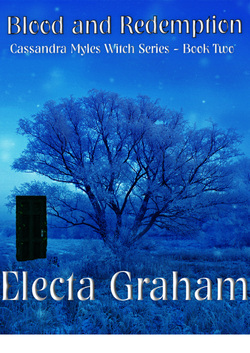 I've been tagged. Not in the I'm an endangered wildlife creature that needs to be studied, but by Jonathon Fletcher, a twitter friend, talented author, fellow gardener, super sweet guy. No he didn't spray paint me with his own personal graffiti tag we are playing blog tag. I am following the rules and doing the deed. I am answering the questions and tagging others.
Here are the Rules…
1) Give credit (including a web link) to the author who tagged you.
https://sites.google.com/site/unitynovels/home/captains-log
I already introduced you above so thats all you're getting.
2) Play by the rules, which also means that you must POST a copy of the rules.
3) You must answer all 10 questions (below). Some of them are quite hard to answer, but do your best!
4) List 5 other authors at the end (with links) that you have "tagged" so that the game can continue…
1)What is the title or working title of your work in progress (WIP)?
Blood and Redemption
-
The Cassandra Myles Witch Series Book Two
2)What genre does your book fall under ?
Urban Fantasy...Paranormal Romance... Paranormal Fantasy?... you get the picture
3)Which actors would you have portray the main characters?
I would want unknown actors. Now this isn't a cop out. I have thought about this. If you have read my first book
Blood and Loss
then please let me know if you have an idea, but no one I can think of seems quite right. Cassandra is a beautiful blue eye blond haired woman, but she is no waif. She's tall, strong and very curvy. It would break my heart to see a tiny size zero play her.
As far as the men. Its the same deal. I am always curious what the readers think so if you have an idea who you'd like to see play anyone, please let me know.
4) What is the main outline of the book?
Okay SPOILER ALERT - if you haven't read
Blood and Loss
then you will find out things you may not want to know. If you have read it and want a sneak peek about what the next book is about then read on MacDuff.
It starts off where the last book ends. Quintus, Cassandra, Lucius and Na'min have all escaped the wolf compound. They have survived, but not without their injuries. Cassandra is physically fine, but mentally she is finding it hard to deal with the consequences of opening the fae door. Lucius is dealing with the after effects of the goblin bites, Na'min wants to return and rescue his people and Quintus is trying to keep everyone safe and together.
There are many new characters in this book. Some you will hate and some I hope you will love. Cassandra tries her best to undo what she has done and get her revenge on Queen Mab of the dark fae. Will she do it, who will be at her side and will their be anymore casualties well read it and find out. I'm not giving everything away.
Let me see what else might the reader need to know? Oh yeah...Quintus or Lucius? Ha I'm not telling.
5)How will your book be published. Traditional, indie, self.....
As last time I am self publishing, but this time I have hired an editor. She has already ruthlessly went back over BLOOD AND LOSS and is now working on BLOOD AND REDEMPTION. So hopefully soon I will have the results of her great works and a flawless manuscript to publish.
6) How long did it take to write the first draft of this manuscript?
During the month of July and not full time as I also published an erotic novella and had to run the farm, but I wrote the first draft of Book 2 and Book 3. It was rough. So rough if you read it you might wonder if english was my first language, but the ideas were flowing and my fingers typed as fast as they could. I haven't read book three since I wrote it last summer so I hope its good.
7) What other books of this genre would you compare yours too?
I would have to say if you put a gun to my head, it would be the Sookie Stackhouse series. Charlaine Harris wrote a very strong, original character when she brought Sookie to life and I hope people feel the same about Cassandra. I also have vampires, werewolves and fae in my books. That is where the similarities end though. I wouldn't mind having her sales but sigh....maybe someday ;)
8) Who or what inspired you to write this book?
I have always had a desire to be a published author. I have a couple books and reams of short stories that haven't seen the light of day since they were written. I really don't know what made me finish BLOOD AND LOSS and actually decide to publish. My husband is in the navy and he was away during one of the most brutal winters I can remember and I think it was work really hard on this book or lose my mind. Since I also have 2 children then going insane wasn't an option. So I went for plan B. My husband encouraged me to finish and I did. It was the best decision I ever made. (besides marrying my husband and the 2 kids blah blah)
9)What else about this book might pique a readers attention?
Hmmmm. Sex? I mix a lot of traditional vampire/werewolf/fae/magic lore with a healthy dose of my own take on things. I answer how vampires were created. How the world between this and the next are separated. In this book I bring in a slew of new characters that I have grown to love and I hope you do to. I'm not a fan of characters without flaws. All of mine have many. I hope you love them anyway. If that isn't enough I have turned up the sexual tension meter to high and thrown in some very hot and steamy sex scenes. What more could you want?
10) Tag five other authors
mmm five authors who don't hate me because of the last time I tagged them?
1)@Paully1965 Paul Lonergan's website is worth a look whether he does the ten questions or not. He is a talented poet and has a uncanny eye for art, both of these can be found on his website.
http://www.6t5design.com/
2)@iantweetz Ian Little is a very talented and funny author. I have read two of his books and enjoyed them immensely. Well when I laughed out loud in the waiting room of the doctors office and the old woman gave me a dirty look well...it was worth it.
http://ianlittlenovels.blogspot.co.uk/
3) @susan_buchanan She is a very talented writer. She is one of the best twitter friends to have so follow her. Plus her blog rocks.
http://susancbuchanan.blogspot.co.uk/
4) @matt_holgate Matt is a very talented writer, he isn't hard to look at either, super funny, crazy smart and a fellow Canadian.
http://www.mattholgatebooks.com/index.html
5)I'm tired I'll do five later I promise. Please don't judge me.