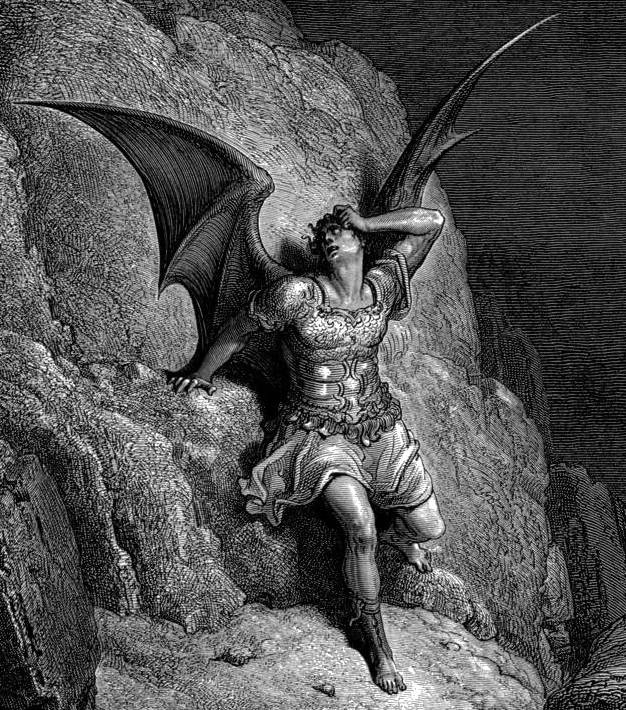 Prologue

Have you ever pictured a demon? Do you see a hideous ghoulish face, fangs and horns? Do you imagine they roam through hell torturing souls and walk the earth corrupting the innocent and the pure? Some of that is true. There are those among us who are hideous, who would strike fear in the bravest men and women.

There are those at the bottom of the food chain who are little more than a puddle of black ooze, but for those at the top we look like you. Well, not exactly. We are so much better. I'm a handsome devil pardon the pun. I have a physique women would kill to get their hands on. My face while not quite angelic, it's close and that bit of mischief you see in my eye makes me all the more appealing.

My father was an angel, an archangel, an angel of the highest. When he fell from grace he kept that beauty even when he lost his wings. My father was prideful, he wanted to be loved as God was loved. God doesn't like to share the limelight. He threw my father away like garbage. He didn't want anyone shining brighter than he.

So when he threw him away you can imagine the hurt. All that love he had turned to hate and Lucifer was still a powerful creature. He vowed to create his own domain, where he would be ruler. They say I look like my father and I agree. My name is Cain, first born son of Satan and heir to everything in the underworld.

I've done terrible things, things so wretched and foul that a single glimpse of a single deed would ensure you would never sleep again. I've worked hard to fill my father's world with as many souls as possible and I am good at it. Doing it myself is a little below my pay grade, but when you have a talent you can't let it go to waste.

Some people think we run around corrupting virginal nuns and priests, others have a vision of heads spinning with pea soup vomiting from the innocents mouth. That's so obvious, bereft of any finesse or subtlety. It's like using a sledgehammer to fix the delicate workings of an expensive watch.

I'll admit some of my more primordial brethren may stoop to those levels, but I don't aspire to the easy win. I don't waste my time on such small victories. The son of the great Abaddon, has bigger fish to fry. Corrupting the very innocent is easy. They don't see it coming, they trust implicitly until it's too late.

Corrupting the powerful is redundant. They have done my job for me and for me to swoop in is like hunting wild game in a zoo, their souls are tarnished and dirty and they are just standing there waiting to be taken. It's a walk in the park and it bores me.

Now getting the J-man to turn to the dark side would have been a victory that would befit the Prince of Darkness, but he is off limits. Uncle J and I have immunity. The only people who can change our soul one way or the other are the humans. What? You thought this was a free for all? No, the amount of rules surrounding what we can and can't do would give a tax lawyer a headache.

You see that's why humans have always been the deciding factor. The balance between good and evil. Humans have no rules, they have infinite choice. They choose everyday what kind of person they will be, what kind of acts they will commit. It makes them the most powerful creatures and the weakest of creatures. Having choice is glorious and terrifying and humans don't know how we envy that. We covet it and its why we seek to pollute that choice in my case or revere that choice in the case of my celestial cousins, but I digress. Where was I? Oh yes I remember.

It's been my goal to find myself a challenge. A soul that has been hardened by pain and suffering. A soul who hates our side more than their own life. To find that person and not only turn them dark, no that too would be too easy, but make them love the very creature they have vowed to eradicate. The deliciousness of that makes me ache to feel it.

My target is the hunter. Oh yes they are the holy grail of the unholy. Hunters are not born, but made, baptized in the blood of a loved one they have lost at the hands of a creature from my realm. They leave their old life and all those who have loved them. The only thing in their sad lives is revenge and no matter how many of my brothers and sisters they kill it is never enough.

They know we lie and they know we can't be trusted. They know we will do anything to get what we want. I have seen them look at me with such vile hatred, their noses flare like I smell of sewer and their eyes glare as if they have the power to smite me with a single thought. Yes to make a hunter love and trust me with all her heart would be the ultimate get.

The pain of her realizing it was all a lie and my feelings are all a fabrication will be equal to that of God turning his back on my father. That pain will finally help him heal that open wound he's had since falling from heaven. The betrayal will be great enough so he can finally retire and I can take the reins. The world has no idea what it will have to endure when I'm the one calling the shots and I will have the hunter by my side. Witnessing every last black deed that she set into motion. It makes me hard just thinking about it.

It came to me one day in my therapy session. What? I have daddy issues. Lucifer as a father is very complicated. My therapist came up with it, But to be fair he doesn't believe I'm a demon so when we talk about such things he thinks it's all in my head. Doctor Eugene Younger, has been my confident for almost five years and he thinks my delusions are because I lack real power when it comes to my father and thinking he's Lucifer gives me an excuse to not stand up to him.

He is uncannily close in his assessment, but if he knew all the things I had done and all the things I could do he wouldn't think I lacked power. He would cower before me and he would piss his perfectly pressed pants, but I like Gene he gives my chaotic mind clarity. A good doctor is very hard to find.

The first year he tried to psychoanalyse my demons, ba dum bum. Sorry bad joke, but he did try and convince me I was human. I finally told him that when he listens to me talk about my fantasy world I can then leave it here in the office and I function better in the real world. I know you should never lie to your therapist, but it was only a small fib and I think he enjoys giving advice to a "fictional" demon. It allows him to be creative, something he doesn't often get to do.

I am well-adjusted for a demon especially if you compare me to my brothers. They are a hit and miss mess. Some are just so blood thirsty and wild they aren't even allowed out of hell and there are a few who have rebelled against my father. They wanted to take their rightful place in heaven. Whatever that means, until Lucifer, angels didn't have children. God would see them as an abomination, he would never embrace his grandchildren.

Here I am babbling on and I haven't even introduced myself. My name is Cain, first born son of Lucifer. My father has had too many women to count, but my mother was the first. You can't blame him for going over board during those first few centuries. He didn't even have the equipment to make children when he was an angel.

So my mother was Eve, the first woman and the first adulterer. She was such a slut, but you can't blame her, my father is a handsome devil and Adam wasn't nearly as equipped. She took a bite of that juicy apple and then he took her cherry. It made God was so angry. He hated me before I was born. How can you hate an unborn babe? It can really screw a guy up being the result of the original sin.

So where were we? Oh yes, I want to seduce a hunter and make her fall in love with me. I have found the perfect target. She's been a hunter for a very long time and she's so good at it that it's hard to not admire her skill. She keeps no one close and doesn't even hunt with a partner. She takes the odd lover when she has an itch to scratch, but she never stays with them. Her passion is to kill my kind and that's all she cares about.

I've been watching her for a while now. I need to know her, what she likes, what she hates, I want to know her weaknesses and strengths. Jael is a sensual woman and she doesn't even know it. She has curves, but she's strong and athletic. She's no girl, no young woman, she's in her prime and when she smiles, which isn't often, it lights up her face.

I know I sound like a besotted fool, but I'm not. I'm a demon and I can see all these things in her, I can appreciate them and at the end of the day it won't matter, because she's just a means to an end. A tool that will help me get what I want. Not convinced? I killed my own brother, I created murder, I'm evil in a pretty package and hurting one woman won't keep me from my rightful place in hell.

Jael will be mine someday, she will look at me with love. A love she hasn't felt in over a decade and she will trust me like no other. She'll fight it every step of the way and she'll hate herself, but it will blossom and it will grow and then I will crush her and the throne will finally be mine.



This is the prologue of a new series I'm writing. Most of the story will be told from Jael's point of view, but every now and then Cain will speak to us. Jael is a 39 year old hunter of demons and all things that go bump in the night. Her partner in hunting is Cole. He's new to the game and only 26.
Jael has more personal demons than hell and she deals with them using denial, booze, sarcasm and sex. She won't make it easy for Cain, she has walls so high no one can climb them and who can blame her. Her own husband, while possessed by a demon killed their only child.
She has hunted ever since and loving the son of Satan will never happen.