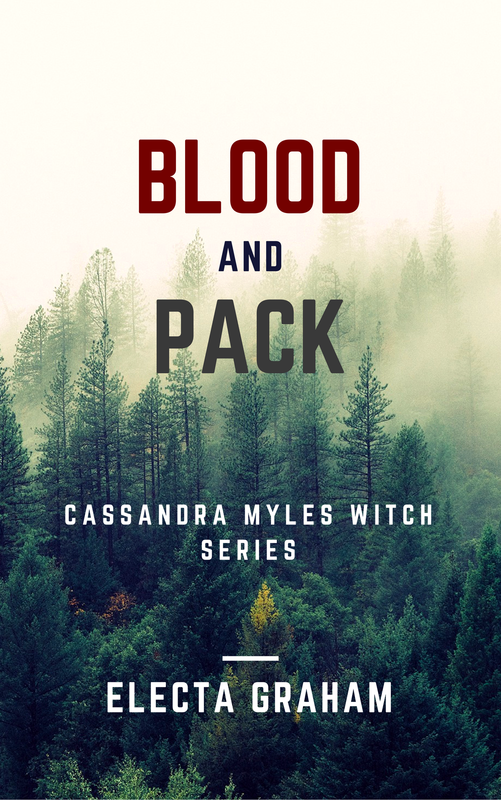 It's been a long time since I put out a Cassandra Myles Witch Series book. I've already written the first draft and thought it might be fun to let you in on how I write a book.
Blood and Pack was written during NaNoWriMo. The month of November thousands of writers try to write a whole book in one month. 50,000 words in 30 days. I managed to finish the 50,000 words on the 28th of November, but I only had 30,000 for the first draft of Blood and Pack and then did a really rough draft of the next book Blood and Love. The last in my series.
Normally I write by the seat of my pants. Just start putting words on the page and see how things go. This time I outlined the whole book before I started writing it. It made the writing process so much easier and I hope it will make the editing process a little easier.
I know what you're thinking, but its almost the end of the January. I finished writing a novelette for my other series. It's free and it has been doing well. Love to have some reviews but they will come.
Lilin
is free on Amazon. So once I got Lilin edited and ready for the public, I was ready to edit Blood and Pack.
It was hard getting back into Cass' head after being away so long but she's my first main character and I love her. After the first chapter I was back in business.
Now I'm going to edit the first chapter and I thought you might like to see how rough a chapter can be before it's edited, plus you get a tiny taste of the next Cass novel. I'll share the whole process of editing, sending my novel off to a professional editor, designing the cover, going over the final draft, sending it off to my beta readers, getting there opinions and tweaking it again
I'll let you in on how much work goes into writing a book. How the writing changes. How brutal the feedback can be from betas and my editor. The whole thing will be revealed.
Here is the first chapter
​
Blood and Pack
My breath billowed about my head as I sat there waiting. The frigid airplane hanger was the only shelter for miles around. The only seat, a cold metal chair, usually reserved for town hall meetings in warmer climes, was freezing my ass off. The two men who had come out when we landed were gone and now it was just me and the pilot.
I was feeling sorry for myself. My inner dialogue went back and forth from blaming the whole thing on Lucius to knowing deep down that I was a grown ass adult that could have chosen to stay in Vancouver. I wasn't a naughty child sent away to boarding school and the fact that I could have prevented my exile to this snow covered frigid land made me even more furious with myself.
The flight had been a nightmare. The first leg of the trip was a dream. Quintus had ordered his private jet to take me as far north as was possible, but I was far too angry to enjoy it. The second plane went from first class to being in the luggage hold. It was a prop plane. I'd been in roomier cars. I kept bumping elbows with the pilot. I flew quite a bit when I was Quintus' assistant and it had never bothered me before, I thought I could handle any plane.
I was wrong. Feeling every tiny wind gust and seeing more detail of the ground than I cared to was terrifying. The last straw was when the pilot swore at his plane to "get in the fucking air", I think I left my body for a minute. If I died in this rickety plane I was going to haunt Quintus and Lucius for the rest of their long lives.
I squeezed my eyes closed as we bounced and wobbled in the sky helped a little. Humming softly to myself drove away all the thoughts of plunging to my death. Under all the terror, anger and thoughts of becoming a witch pancake was Lucius. His stupid face kept swarming in my mind. I mentally punched his cowardly face from my mind.
He had sent me away to protect me. He thought I was some fragile toy that could be placed on a high shelf. Only bringing me down once all the nasty children had gone home. He had the luxury of time. He was already a thousand years old. He could wait thirty, forty years and not bat an eye. By then I'd be old, and my life would have been wasted.
I'd been a sucker. Even though he'd been the one who had taken away what we had I still wanted to please him. I was pathetic. He had asked for help from an ex lover to help him find Quintus, she was the one who almost killed me. He hadn't reached out to me. He didn't think I was capable of staying alive long enough to be of any good to anyone.
I had survived two psychotic fae queens, whole wolf pack., his insane vampire girlfriend, a fae intent on revenge, the murder of my parents in front of my very eyes, and in some ways the worst of all, the loss of my magic. I wasn't porcelain. I was steel and I wasn't going to let anyone encase me in bubble wrap.
Yet here I was in the middle of the great white north. All alone. On the run and hiding. Hiding in this freezing wind tunnel of a building. Once we landed he led me into the only hanger. I was told I could wait in the lounge. The lounge was four metal folding chairs and one of those giant spools you get industrial sized cable on. I was asked if I wanted a tea or coffee, but I just wanted to get out of there, so I declined politely.
Of all places to end up this was my worst nightmare. Another wolf pack in the middle of a giant Canadian forest. The last time I'd been kidnapped and taken against my will. This time I was going on my own, because I had listened to what others thought was best for me.
It hadn't worked very well for me so far and even though it had taken me a long time to learn the lesson I finally had. I'd visit with Dominick and Killian since I was already here and expected, but after that I'd decide where and how I lived. I'd drifted for too long. I'd let the things I couldn't help in my life rule the things I could help.
My parents died, and I lost my magic. I was grateful to Quintus for taking me in and giving me a purpose in my life, but that didn't mean I owed him my whole life. I loved Lucius. We'd been through so much together, but that didn't mean he had any claim on me and he certainly didn't get to dictate my life.
He of all people should have seen me for who I've become. I wanted someone in my life who could see what I was capable, not telling me what I couldn't do. I didn't get a thousand years, I got eighty of I was lucky.
I fished out a pair of mittens and a scarf from my suitcase. I'd been spoiled by the mild weather Vancouver had for most of the year. I wasn't used to this kind of cold. My butt felt like it had frozen to the folding chair. I could tell the pilot wanted to go home. He kept coming out and asking if I needed to use the phone.
Lost in my own drama I didn't hear anyone approach. When she placed her hand on my shoulder I jumped slightly. Looking up I saw a woman in her mid forties, it was hard to tell. She had one of those ageless faces. She was stunning, with porcelain skin, dark straight black hair hanging down past her shoulders, perfect white teeth, framed by a set of luscious lips, topped off with warm honey brown eyes.
She was the first to speak. "I'm sorry I didn't mean to startle you." Her voice was rich and deep. Sexy.
"It's okay I startle easy."
She held her hand out. "I'm Mairi, your ride today."
I stood and shook her gloved hand. "Okay, thanks. I'm Cass. I thought maybe Killian or Dominick might come."
"Oh they both volunteered, but I had to pick up supplies and you'll see them soon enough. How was your flight?"
"It was a flight alright."
Her laugh was warm. "I've had that flight a time or two. Its not pleasant." She picked up one of my bags and I followed her outside.
A black jeep was parked outside the hanger. Old but looked well taken care of. I was shocked that we'd be driving. "We can drive there?"
"No, we'll drive for a while. Get as close as we can and then we'll go by snowmobile the rest of the way."
"How long?" This journey was never going to end.
"About another six hours maybe? Depends on the conditions. We haven't had snow for a while, so we should be in for an easy ride."
We rode in silence for a while. The scenery was all the same. Pine trees and snow. The sky was bright and clear. I think I dozed off for a while. I woke to her talking to me.
"I'm sorry did I wake you?"
"No, its fine. I think I'm just a little jet lagged. I slept on the first leg of the journey but not the second."
"I have a confession to make… I volunteered to pick you up because I was so curious."
"About me? Why?"
"So many reasons Cass. One, you're a witch and I've never met another witch except my mother."
"I might be a disappointment then. I was without my magic for a long time. I don't even feel like one anymore. I mean its starting to feel like a part of me again, but I think I still have a way to go."
She cleared the windshield of salt and then continued. "Killian and Dom think a lot of you. You were the mate of a wolf. As a human that's so very rare. This will be your second pack you've been to, that's unheard of. You were there during the great massacre. I have so many questions."
My head started to spin and then everything around me joined me for the ride. My stomach was not happy. I was going to be sick. "Pull over." She looked at me like I was insane. "Pull the fuck over or I'm going to puke everywhere." She slid the jeep onto the shoulder, I emptied what little was in my stomach onto the white and black snow.
Standing there trying to breathe and calm my stomach, I fought back tears. They had a name for it. Dominick's pack had been wiped out by the dark queen of the fae, Mab and I had been the one who opened the door and let her out so she could do the deed.
It was so complicated. I was made to do it. It had saved the fae, but at the end of the day, a whole pack except for Dom was killed. I was the catalyst and being reminded of something I tried everyday to put in the back of my mind was not something I'd been prepared for.
I climbed back into the jeep and leaned back into the seat. She placed her hand on my knee and pulled back onto the highway. After a few minutes the tears came, and I couldn't stop them. I was looking like a fool.
Mairi passed me a tissue and squeezed my knee before placing her hand back on the wheel. "I don't blame you for what happened Cass. You were held against your will, blackmailed and forced to do what you did. It's a great shame we carry around for how you were treated. The massacre was catastrophic, but it was in no way your fault."
"I'm sorry for yelling. I was just caught off guard."
"I could have been more delicate, but I don't socialize much and that makes me a little blunt sometimes. I forget that most conversations are more of a dance and less of a sledge hammer. Bottom line you need to know that most of the wolves don't blame you for what happened."
"Most?"
Swerving to miss a dead raccoon in the road she turned to look at me. "Cass, there are assholes everywhere."
I laughed and agreed. Yes, there certainly were. "Well tit for tat I have a question. What's it like being the only witch in a whole pack of wolves. I know that you guys are basically magic in human, wolf form, but to use that magic is a different story. It must be lonely."
"It has its upsides and downsides. Mostly I'm an outsider, but respected if that makes any sense. People have a hard time trusting things they don't understand, but they don't mind coming calling when they are in need. So, I fit in about as well as I want to."
"My mom didn't want me to have magic. She hated my powers." I wasn't sure why I'd blurted that out.
"I was lucky, my mom was a strong woman and she paved the way for me in a lot of ways. She was not the first wolf witch, but she was the first in many generations. It used to be common for a pack to have a witch. A human, who could do things that would protect us. She was considered sacred in a pack. Honored. Sometimes that would result in a pup or two.
"Then more and more humans started to inhabit our lands. Infringe on our territory. We had to become more secretive. Hide further and further away. We stopped trusting humans and then even the witches were seen as the enemy. By that time those of us who weren't pure wolf were so interbred with the rest of the pack we were accepted, until the first witch was born. My mother was the first in memory. She was shunned, but her powers to heal were great and when a loved one is at death's door even the most vehement hater will come calling.
"She became excepted as much as was possible. You know wolves better than most humans, we are stubborn and stuck in our ways."
I smiled at her. "Maybe one or two of you fit that bill."
"Ha, yes or a couple of hundred. So I'm respected and kept at a distance, but I'm fine with that. I'm not like the others. Most females are submissive. Its how things are, but my powers make me an alpha and that puts me on the outside too."
"Have you ever thought of leaving?"
"No, that isn't good for a wolf. Being without its kind is hard. I used to fantasize about it though. When I was young and wanted to be like everyone else, but living with humans would still make me an outsider."
"I didn't want to come here. I wanted to stay and live my life. Others felt I wouldn't have a life if I stayed." I don't know why I told her that. Maybe because she was so open with me. I felt a connection with her.
"That's a tough one. When you love someone, you want to protect them, but you have to be careful how you do it. You can't destroy the very thing you love while trying to keep them safe. Only you can decide what's right for you."
"Yes, and my problem has been letting others decide for me, but that stops now."
"Good. No man or woman should rule another. You have the right to live your life how you please, we only get one and we need to make sure we make the best of it."
"I don't like to make excuses for him, but I think Lucius forgets that we don't all live to be 1000 and even a year is a long time to a human."
"That's likely true, but you know better Cass. Having said that, I'm glad you're here. I've never had anyone I could talk shop to. You've went to school to become a witch. I've relied on passed down information from my mother and she was taught by no one. She learned through trial and error. I bet you could teach me a lot."
"I'll share with you anything I can, but I'm no expert I can assure you. How incredible your mom must have been. It must have been terrifying when her powers first manifested. For all my mother's faults she always was there to explain what was happening."
"My mother had a hard life and very few people looked out for her. It made her a hard woman, but she loved me. Still it killed her knowing the life I'd have, it's why I never had a child of my own. I couldn't make someone lead this life, it sounds harsh, but it would be cruel."
The rest of the drive was quiet. The only noise was the constant shush from the slush on the road. The green and white of the scenery began to blend in and I wondered how it would feel to be in another wolf compound. I began to drift off again. I hadn't ridden a snowmobile since I was young and as I remember even back then it was more hang on for dear life than fun. I hoped Mairi was a good driver.