Most who are reading this post know me as and author, some also know me as a gardener and even fewer know me as a cook and preserver of all things veggie and fruit. I have written many articles on writing. I have posted pictures of my garden, but I think its time to tell the story of how I wound up in the middle of nowhere growing my own food, when most of my life was spent in the city struggling to make a tiny garden of flowers bloom. I hope you find it interesting. It will be a serial I'll add a little bit to every week. I will try and make it funny and you will learn a bit about how I live my life from March until October. The winter months just picture me shoveling snow. SIGH!!!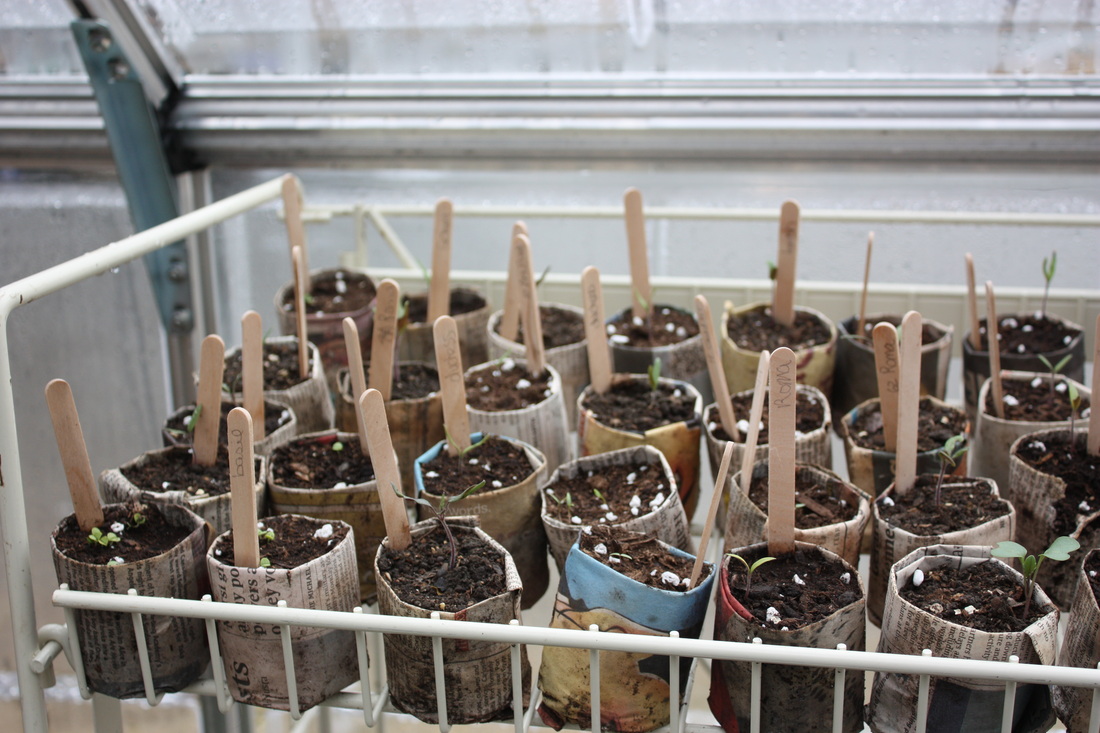 It's that time of year again when my mind must turn from my writing and face something even dirtier, planting. I've made my list of seeds and I'm ordering them today. Normally by now I have about 500+ pots made, but this year I am very far behind. I have been working on book four of Cassandra Myles Witch Series - Blood and Revenge and Book one of my new series with Kna-Lo Venge called Surface. I even have an idea for a YA series, but I am telling it to stay out of my head, I have enough to do. So far it isn't listening. I also have a new hobby called clearing the driveway of snow. It has become an all consuming past time in the last two weeks.
So let's see I have shoveling, writing, planting, two kids, a husband and promoting the work I already have out there. I either have to stop sleeping or hire an assistant. If anyone knows an assistant I can pay with homemade meals and fresh fruits and veggies please let me know. I will not be picky. Oh homemade jams. I can pay in jam.
You may be asking, if you don't already know, why would you put yourself through that? Well the gardening came first. Well not really. I've been writing since I was young, but the gardening came before the publishing.Let me take you from living in the city with a plot of land that could hold about three postage stamps to a home with 40 acres of land.
I lived in the city all my life until 5 years ago. It was about 6 years ago that I became obsessed with how food was raised and grown. I didn't want my family eating pesticides or meat that had anti-biotics and hormones in it.
I had made the mistake of watching too many of those documentaries on how our food is grown and processed. In fact I would hear a constant groan from my family when I would talk about the new horror of food fact I had found out about. I watched Food Inc. and I started to boycott certain fruits and veggies grown in certain regions. All well and good, but hard to do when local produce isn't exactly available 365 days of the year.
I was reading large amounts of material on GMOs, hormones in meat, pesticides and the scariest of all that if Nova Scotia was cut off from getting food delivered for whatever reason I don't know say Zombie Apocalypse, then we would have less than 48 hours of food on the shelves in our local stores.
I know some of you think I am crazy to worry about that. Some of you might be saying "Just buy organic and get over yourself you hippy loon." It wasn't just the food that made us think moving would be a good idea. There were several factors. It was time for a change.
We lived in a duplex. Our neighbor, the woman on the other side of our home was a crazy cat lady. She was crazy and she owed 15 cats. That might not sound like a lot in the days when you have shows like animal hoarders and well just regular hoarders, but it is. Still not convinced? Go visit her and take a big old deep breath.
We were her go to for when she went away. She always asked us to feed her cats. This would cause problems in my marriage because my husband and I would fight over who had to go into the house that cat piss built. It was strong. It wasn't just a smell. It had a physical presence. One that punched you in the face when you were there. I would spend the whole time dry heaving. Its very hard to feed cats when you are retching everywhere.
You might be saying why didn't you say something? We did. My husband decided I was the best person for the job. I told her in as nice a way possible that her house smelled like cat urine. Not one cat peeing, but like a river of cat pee was running through her home, that is so strong your eyes burn and I think you may be giving yourself brain damage by living there.
No I wasn't that mean, I struck a balance between trying to be nice and trying to be truthful. It didn't work. We had to build a divider on our shared deck because when she would leave her windows open it would waft over to our side. Sometimes I would smell it in our house and sometimes I wasn't sure if I really smelled it or I was losing my mind because I was always on stink patrol.
So to make a long story end she was one reason. One very stinky reason. Another was the neighborhood. I grew up in this area. I had an awesome childhood, but to say there was a criminal element in the area was an understatement. I wanted my kids to grow up in a place where there wasn't someone on house arrest across the street or a possible drug dealer next door to the school.I know I'm over protective, but what can I say.
So that was reason two. Reason three, we had outgrown our home. It was a step up from our first house, but it was still pretty small and with a 90 lb dog and two growing children we felt like we needed more space.
Reason four was I wanted to grow my own food and having 15 cats use your garden as a litter box that was never going to happen where we were. We started discussing it. Moving outside the city. Getting a piece of property big enough to grow our own food on and maybe even enough to sell some. It started as a nice idea and grew into a need. It grew into something we felt we had to do.
I started researching how to grow veggies the organic way. I used the computer and the library. I was in my glory. I love research. I can't explain it but I do. I love taking notes, making lists and learning new things. So that spring it changed from an idea to a plan. We were moving and everyone was on board.
Next time I'll talk about looking for the right house and how friends and family reacted to our desire to totally change our lives.