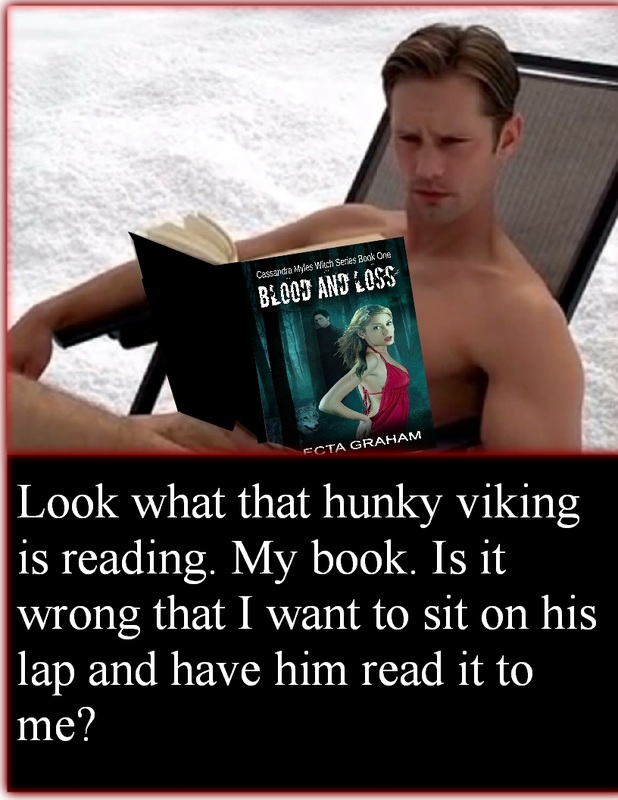 I can't make Alexander Skarsgard go to your house and read my book, (if I could he would be at my place and way too busy) but I am giving my first book Blood and Loss away for FREE.
If you lost everything that made you who you are could you recover?

Would you be stronger than before or would you crumble under the mountain of grief?

When Cassandra Myles is faced with this question her answer is to do what ever it takes to move on. She rebuilds her life and finds happiness once again. She doesn't do it alone, she has two very special men in her life, who have been there for her while she has recovered.
One is her boss. His name is Quintus and he is a very old and very powerful vampire. He took her under his wing when she needed someone and now she would do anything to repay that debt.
The other is her roommate Declan. He is caring, charming, gorgeous and in her eyes perfect in every way except one. Cassandra feels they are meant for each other and Declan feels he is meant for every woman who walks in his bar.
Life might not be perfect, but it was filled with possibilities and she was going to meet them with strength, courage and when all else fails a huge dose of sarcasm.
Then Quintus comes to her and tells her what was once lost can now be restored. A painful part of her past can be undone. Will this make her life complete or should some things remain buried.

This novel contains several erotic scenes that may cause an increased heart rate and other more pleasant side effects. This novel is not meant for a younger reader. 18 +
Blood and Redemption the sequel to Blood and Loss is available now.
What are people saying about Blood and Loss?

- This was an excellent read I loved the book I read it in 2 days I couldn't put it down can't wait for the next one in the series :)


- This was a very interesting book. Well thought out. Loved the characters. The girl was quirky and funny. A fun read.


- this series kicks ass and read both books in it. want more and can't wait till it comes! a must read




- I wasn't sure if I would like this book but it was a free book so I gave it a try. But it truly grabbed me from the start. I couldn't put it down. I loved the Cassandra and the story line. So much so I bought the 2nd book right after and have finished it as well.


- I want to read more Electa Graham books I ended up finishing this book in one day I cried when of my characters died read this book you won't regret it


- I have to say the story had me from the first few lines. This is a well written and thought out story line. I loved the characters, and can't wait to read the next book.
Cassie is not your typical witch and I hope that there will be more of her witch friends in the next edition. This story line has so many ways to go can't wait to see it
I am working on book 4 titled Blood and Revenge. I am hoping to have it ready to be published by February. Check out book one Blood and Loss for free from Nov. 28-30. Book 2 Blood and Redemption and Book 3 Blood and Reign are available now. I hope you enjoy all three.